When it comes to finding the perfect ring, one of the most important things to remember is the ring size. The last thing you want to do when receiving your ring or giving that special someone a ring is to realize that it is the wrong size. This usually results in having to send the ring off for weeks on end to get it resized. Today, we are going to help you avoid this common problem and show you how to measure your ring size with a few common household items.
How To Measure Ring Size With Paper, String, & A Ruler
First and foremost, for those of you who are looking to get a ring as a surprise, it is best to employ the help of a friend to nonchalantly ask the recipient their ring size. If you can ask them yourself without raising suspicion, this is always a great option as well.
For those who would like to get the actual measurement themselves, you can do so with a piece of paper, a piece of string, and a ruler. Alternatively, you can also use a flexible clothing tape measure if you have access to one.

Step 1 - Wrap the string or paper around the base of your ring finger where your ring will sit. Determine how tight or loose you will want your ring to sit to get the most accurate measurement.
Step 2 - With a pen, place a mark where the string overlaps so that you can measure out the distance between the dot and the end of the string. You may need the help of a friend for this step.

Step 3 - Lay out the string on a flat surface and use a ruler to measure the distance from the end of the string to the dot that you made. We suggest doing this a couple of times just to make sure you get the same measurements.

Step 4 - Using the ring chart below, pick the nearest measurement to determine your ring size.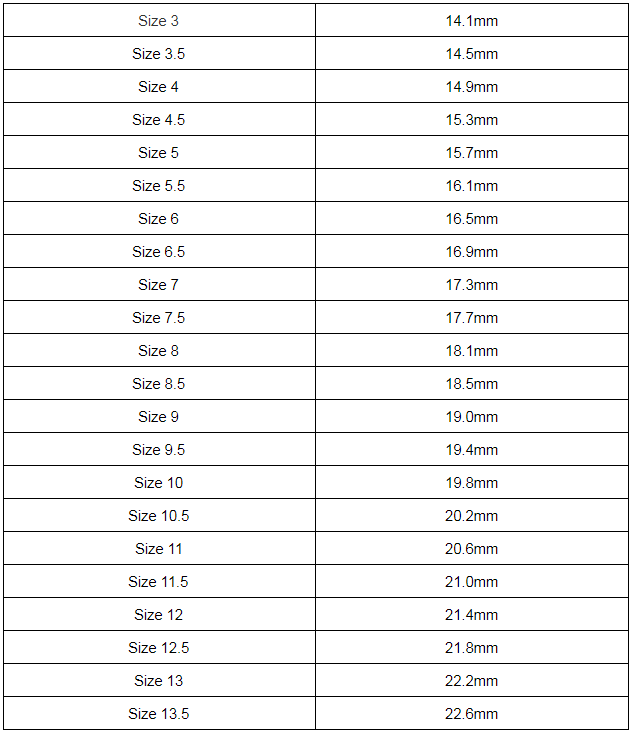 If you have access to another ring that you know fits, measure the inside of this ring and compare it to the measurement of the string to see how accurate your measurement is.
Ensure that you are fitting the ring correctly. You will want the ring snug enough to where it won't fall off but loose enough that you can slide it over your knuckle for removing when you need to. To measure for this, take a measurement of your knuckle and where the ring will sit and pick a size in between these two measurements.
It is best to measure your ring size at the end of the day. This allows for you to take a measurement when your fingers are warm and at their largest diameter. Measuring when they are cold could provide an inaccurate reading and a size that is too small.
What If My Ring Needs To Be Resized?
There are many reasons why your ring may need to be resized. Ordering the wrong size to begin with, weight gain or loss, or even moving to a region with a different climate can cause your ring to not fit like it used to before.
Rings can usually be resized to fit your new size with no problem at all. However, small amounts of metal will either be removed or added to enlarge or narrow the ring opening. Most of these changes are barely noticeable.