It's that time of year again! The MLB All-Star game is celebrating its 90th game at Progressive Field on July 9th, 2019 and we here at All In Faith couldn't be more ready! With so many great players in this year's game, we are especially excited to see a few of AIF sponsored athletes competing this Tuesday. Let's take a look at a few of the players that we sponsor that you can expect to see in the 2019 MLB All-Star Game.

Making his MLB debut in 2016, Venezuelan catcher Willson Contreras has made waves in Chicago and will be playing his second All Star game this year. He has been with the Cubs as an international free agent since 2009 and has proven himself year over year, putting down better stats each year.

Contreras sports an XL Bat Cross pendant with a 24" chain from All In Faith. This bat cross in one of our most popular necklaces and is a larger version of our flagship original bat cross pendant. This is the perfect necklace for those who want to show off their faith.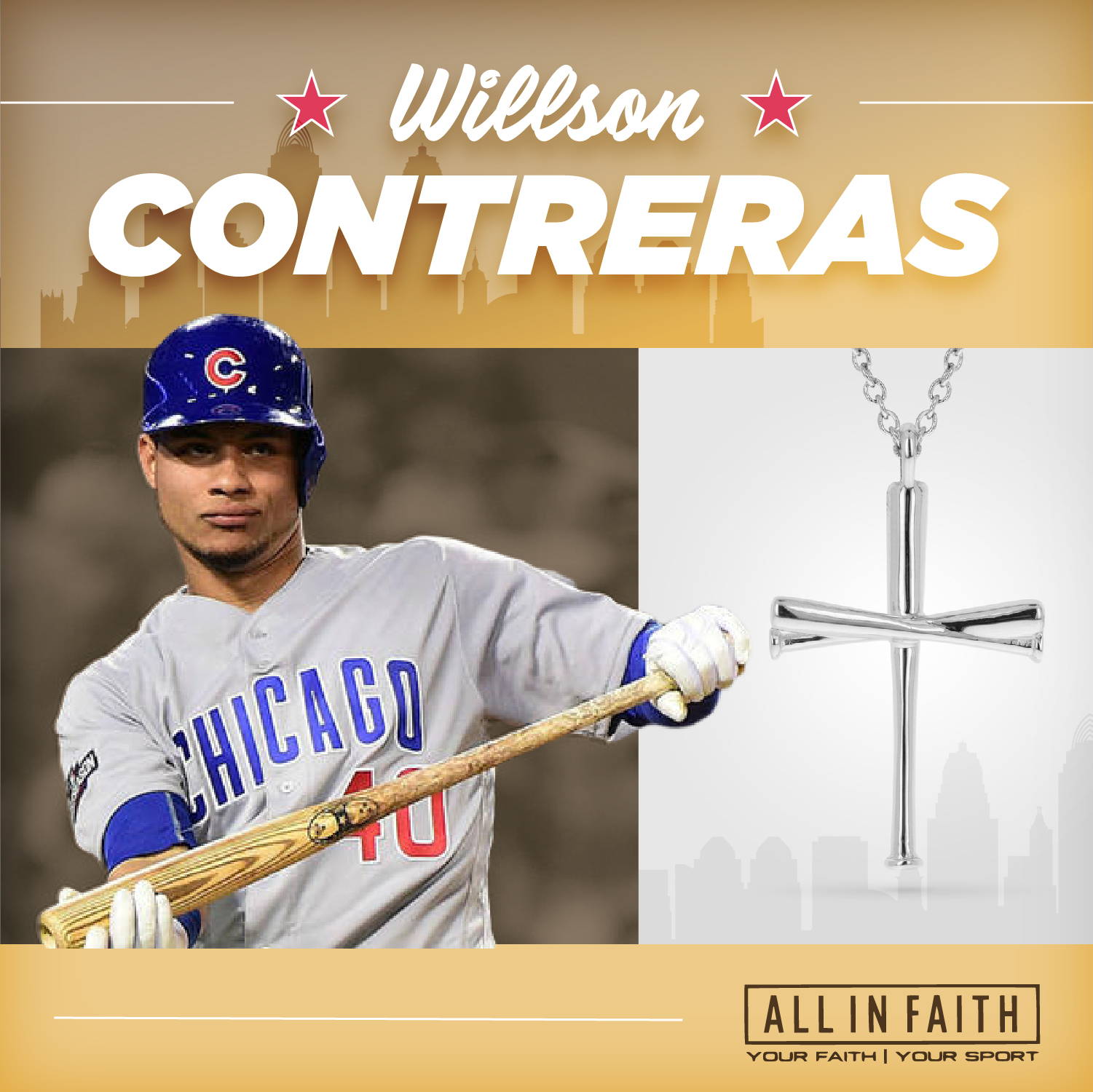 A teammate of Contreras, Javier Baez is another great Cub to watch in the All Star Game. Drafted in 2011, Baez got his MLB debut in 2014 where he plays as a shortstop. Baez was born and raised in Puerto Rico and moved to Florida with his family in 2005 to allow his sister to get treatment for her spina bifida condition. He began playing baseball in Puerto Rico thanks to a heavy sports influence from his father.
You can find Javier wearing an Original Bat Cross pendant and necklace, the most popular pendant in our lineup. This necklace was designed for those who wanted to show off their love for the game and their faith in one elegant piece.
Making another MLB All Star appearance this year, New York Met's Pete Alonso joins two other teammates for Tuesday's game. Florida born Alonso was drafted to the New York Mets in 2016 where he plays as a first baseman. Alonso also played in the 2018 All Star Game and has won the Joe Bauman Home Run Award as well.
Pete is the proud owner of the XL Bat Cross with 24" chain and a variety of our All In Faith power bracelets. The XL bat cross is a great addition to any baseball player's accessory collection as it is a larger pendant, designed to show off your faith at any time. The power bracelets sported by Alonso give you a great accent to your wrist and are great for any occasion.
Gary Sanchez joins this year's All Star lineup along with DJ LeMahieu as starters for the New York Yankees. Sanchez has been playing for the Yankees since 2015 and has had many recognitions in his career. In 2016, he was named Player Of The Month, and the AL's Rookie Of The Month. He also had a record-breaking rookie debut and was runner up for Rookie of the year in 2016. In 2017, he was named an All-Star and a Silver Slugger.
Sanchez is often seen wearing the All In Faith Black Diamond Number Pendant 24" Chain. This pendant allows anyone to customize any 1 or 2 digit number to be on the pendant for the ultimate customizable necklace. This is perfect for those who hold their number close to their heart.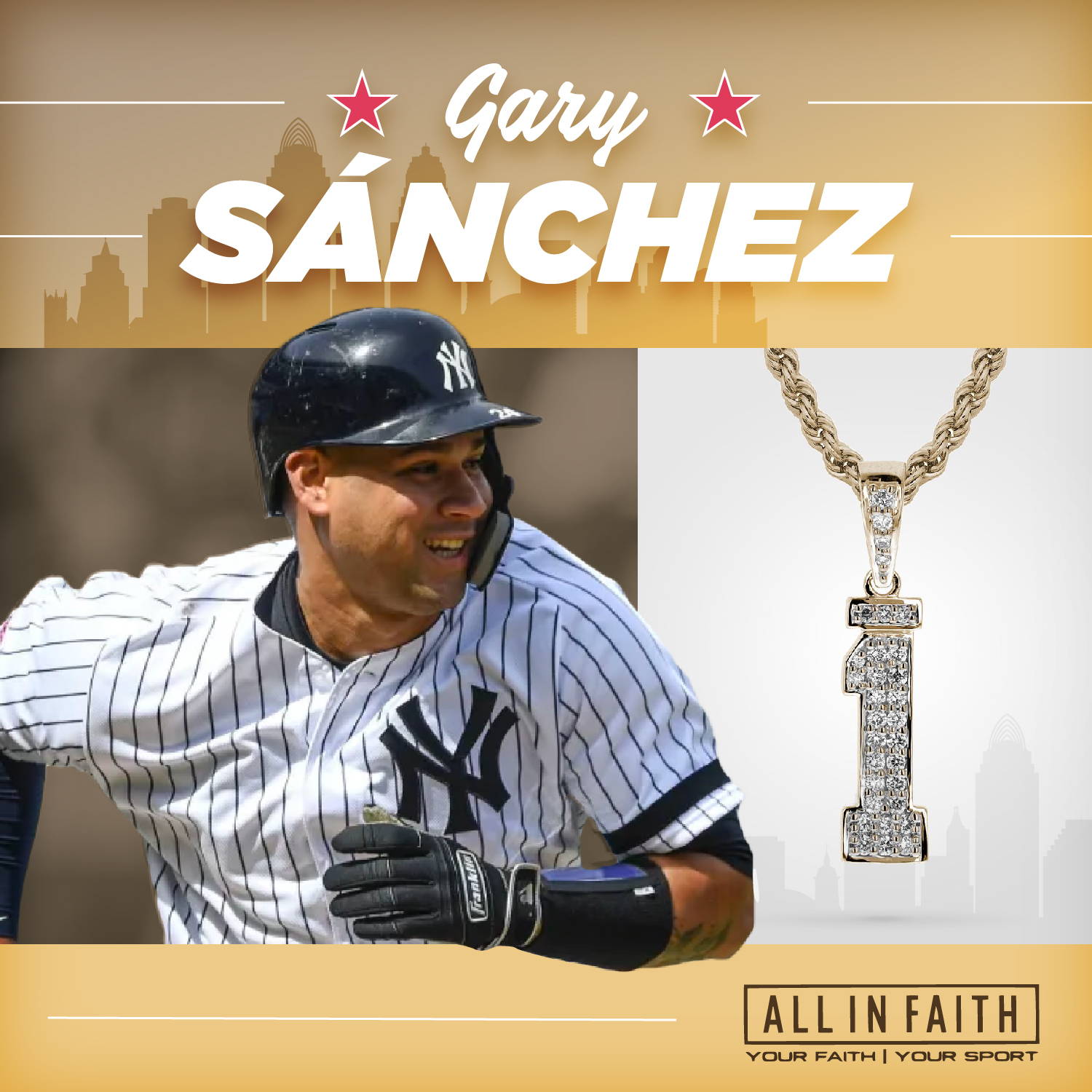 Dominican-American professional baseball player Carlos Santana will be making his All-Star debut in Tuesdays game, but he is no stranger to recognitions. Like Sanchez, he has had his fair share of many different awards. He has played in MLB Japan's All-Star Series twice, was awarded Wilson Defensive Player Of The Year at first base, and many other accomplishments as a First Baseman, Catcher, Third Baseman for Cleveland Indian.
Santana proudly displays a gold XL Bat Cross 24" chain from All In Faith. This necklace is a great upgrade from our sterling silver XL bat crosses for those who prefer to sport gold jewelry. The gold XL cross necklace makes a bold statement and stands out no matter where you are.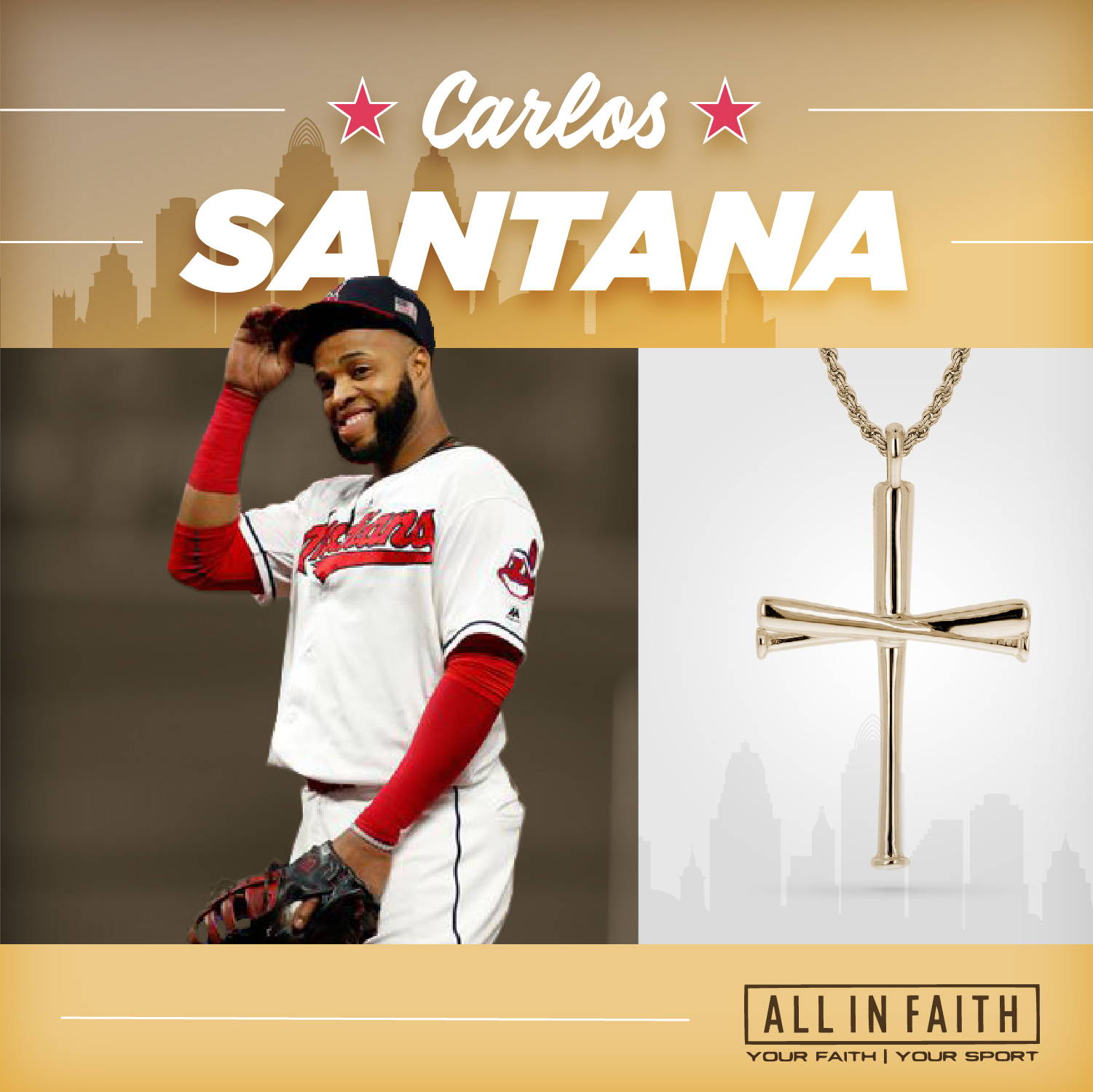 Drafted in the second round to the Pittsburgh Pirates in 2011, Josh Bell smashed the record for signing bonuses outside of the first round with a staggering $5 million signing bonus. After being promoted to the major leagues in 2016, Bell hit a grand slam at his second at bat, which set the tone for his career. Although this is Bell's first year as an All-Star, we are sure he is just getting started.
Bell can be seen sporting a Gold Original Bat cross from All In Faith. The Original Bat Cross is what got All In Faith started and the gold version has introduced a more unique option for those who prefer gold jewelry.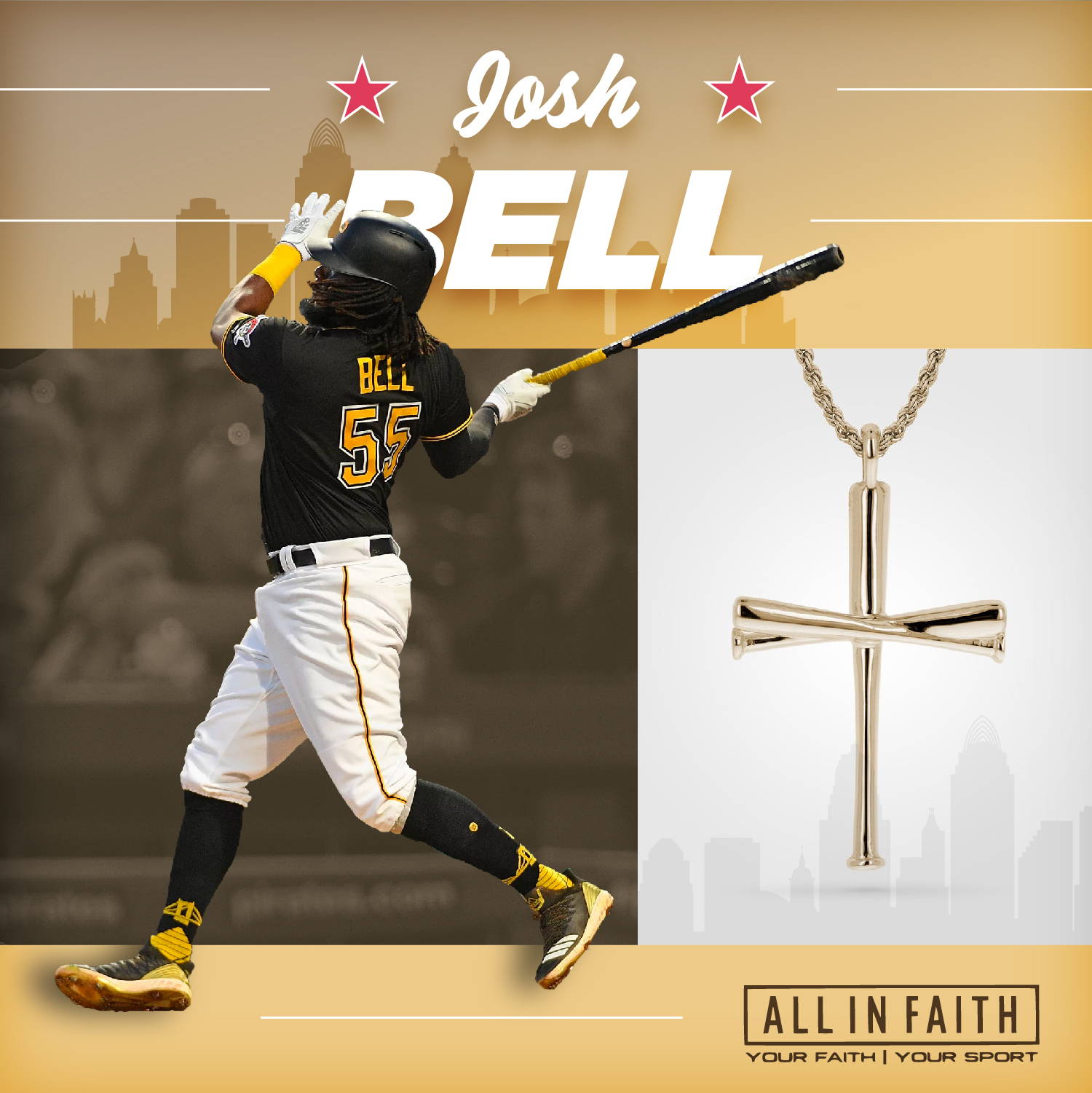 We here at All In Faith wish the best for each and every player competing in the All Star Game this week. We are excited to see the players we sponsor grow and set new records both at this game and in their futures.
If you would like to see more of the jewelry that these players are wearing, feel free to click the link below to start showing off your love for your faith and your favorite sport.